The changing technology of linear stretch blow molding machine
2022-07-05
Mainly,
From big preform heating pitch to small heating pitch

From pneumatic drive to servo motor drive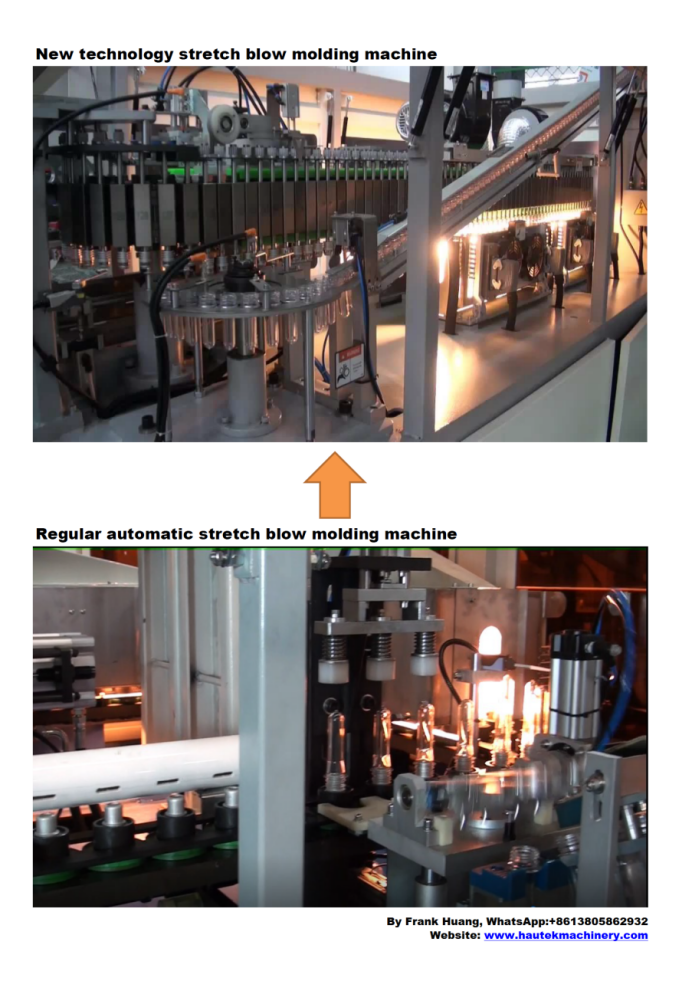 New technology stretch blow molding machines have above basic features. However it's not only to include or mix above 2 main features in one machine can be called new technology stretch blow molding machines. New technology stretch blow molding machines need to with optimized design conception, to achieve low power consumption and high output.
For point 1, it's visible that preforms in small heating pitch holders will be more efficiently heated than on big heating pitch holders. That is same heating power consumption, small heating pitch designed machine can heat more performs. Or, to heat same quantity preforms small heating pitch designed machine will take less electrical power energy.
For point 2, drive by servo motors has advantages of fast speed, precise location, less maintenance, and high energy efficiency. Pneumatic cylinders offer intermittent motions. It limited the capacity to increase speed. Pneumatic cylinders need to have air source as drive power, while the air source need to be supplied by air compressor, and air compressor driven by motor, the motion energy transferring route of pneumatic cylinders is longer than motors, and pneumatic parts life-span is short than motors. The running cost of pneumatic cylinders is higher.
The above 2 points determined the big heating pitch pneumatic drive stretch blow molding machines will be replaced by new technology machine gradually.
As we observed from the posts of PET bottle manufacturers showed on Facebook, most pictures showed PET bottle blowing production by manual operation machines and pneumatic operation regular PET blowing machines. Once PET bottle manufacturers recognize their existing pneumatic drive blowing machines can be replaced with new technology machine to save a lot of running cost, it's the time that new technology machine become popular.
It meets the trend of industry upgrading, energy saving, and carbon emission reduction requirements. The most important of reality is the PET bottle manufacturer can save much money from the running with new technology PET stretch blowing molding machine.
By Frank Huang, WhatsApp:+8613805862932
Website: www.hautekmachinery.com